<

Back
Sweet chestnut blight warning
Plant health authorities are urging woodland managers, tree professionals and the plant trade to be vigilant over the coming months for sweet chestnut blight, caused by the fungus Cryphonectria parasitica.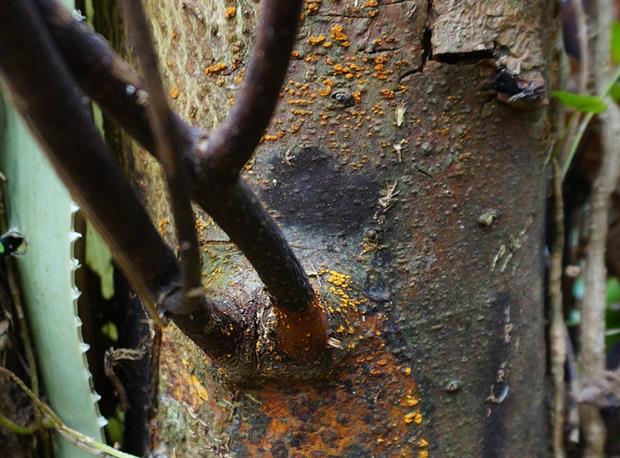 credit Ana Perez Sierra
The request follows confirmation of the disease in a small number of sweet chestnut trees at two sites close to each other near Exeter in Devon. One of the sites is in woodland. The disease was also found in September in Kent.
Andy Hall, Forestry Commission England's Tree Health Team leader, said: "We are committed to doing everything possible to prevent plant diseases crossing our borders, and although we cannot eliminate all risks, we have stringent plans to deal with threats, and take prompt action when they are detected. We therefore work closely with the international community, industry, NGOs, landowners and the public to reduce the risks of pests and diseases entering the country, and to mitigate the impact of newly established ones.
"In this case, C. parasitica is a quarantine organism, so the Government's Chief Plant Health Officer moved quickly to implement our contingency plan with colleagues in the Animal & Plant Health Agency (APHA).
"We have surveyed sweet chestnut (Castanea sativa) trees within 1km of the affected trees, and found no further signs of it. We are now carrying out a targeted survey of sweet chestnut trees within 5km.
"We are also tracing and inspecting sweet chestnut plants at other planting sites supplied by the nursery which supplied plants to the affected woodland. We are grateful to the nursery for its co-operation."
Plant health notices are being issued to prohibit the movement of sweet chestnut and oak material from woodland and business sites within the 5km area until further notice. Although oak trees suffer only superficial damage if they are infected by the fungus, they can spread it, so restrictions on oak movements  are also required as a precaution.
Hall added: "We understand that this restriction will cause inconvenience and disruption to some local businesses, and we want to minimise this. We will keep it under review, and hope to be able to ease the restriction as soon as we have fully assessed the situation."
Hall appealed to tree and woodland owners, plant traders and tree professionals everywhere to inspect their sweet chestnut trees frequently and report any suspicious symptoms to the Commission or, in the case of plants moving in trade, to APHA's Plant Health & Seeds Inspectorate (PHSI).
Reports to the Commission should be made with its Tree Alert reporting tool at www.forestry.gov.uk/treealert, and reports to the PHSI to 01904 405138 or by email to planthealth.info@apha.gsi.gov.uk.
Chestnut blight does not pose any risk to people, pets or livestock, and is only known to seriously affect sweet chestnut (Castanea) species. Although the fungus can occasionally affect oak trees, usually when they are standing very close to heavily infected sweet chestnut trees, it does little damage to them. It does not affect horse chestnut (Aesculus) species.
Full information about the disease, including pictorial guides to the symptoms, is available on the Forestry Commission website at www.forestry.gov.uk/chestnutblight.