<

Back
Botanical Dreams by HEDGES & HURDLES COUNTRY SKILLS & CRAFTS
Date/Time
Saturday, 20 March, 2021
1:30 pm - 4:00 pm
Location
Flittons Nursery & Plant Centre Wallington Surrey SM6 0SW
We are excited to bring you further, mindful and creative botanical workshops with a twist! Combining natural materials with carefully selected plants to produce beautiful art pieces for you to enjoy or gift to others!
Working together, Lorraine and Renée bring you the following workshop:
Botanical Dreams
Join us in combining two activities into one! Firstly, you will make a wreath base from a selection of Willow coppiced here alongside the lakes at the Priory Farm Estate. Using garden twine you will learn how to weave a web within your wreath to create the beginnings of a dream catcher!

You will be shown how by adding a selection of small succulents you can transform your dream catcher into a beautiful hanging botanical decoration that can brighten up any wall, inside or out!
In some Native American cultures, a dreamcatcher or dream catcher is a handmade willow hoop, on which is woven a net or web. It originates in Ojibwe culture as the "spider web charm", used as a protective charm for infants.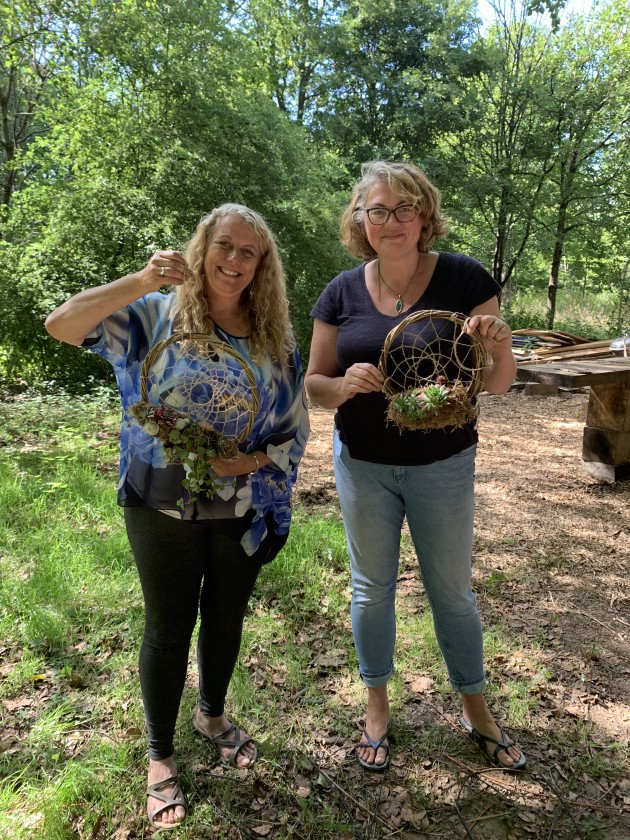 Cost
£45.00 per person
Suitability
This workshop is suitable for adults or teenagers. You are welcome to bring along one child over the age of 8 yrs to help you at no extra charge.
Groups
We can facilitate private groups and party bookings. Please contact the organiser, Lorraine to discuss your requirements further.
Hedges & Hurdles reserves the right to alter or vary the programme due to events or circumstances beyond its reasonable control without being obliged to refund monies.
If the course is cancelled by the organiser for any reason we will contact you as soon as possible and will always endeavour to reschedule your booking for another date, however, if this is not possible a full refund will be provided.
Our full terms and conditions including our cancellation policy are available to view and agree when making a booking.